We are thrilled to announce SunWater as the major sponsor of the fireworks display at the Taroom Show.
The fireworks will be held on final night of the show, on Tuesday 3 May. The fireworks have always been one of the greatest traditions of the show, and continue to be a family favourite.
SunWater makes a significant contribution to the rural, industrial, energy, mining and urban development of Queensland by providing water solutions. SunWater currently owns and manages 19 dams and 63 weirs and barrages across regional Queensland.
SunWater's Service Manager South John Kelly said SunWater is proud to support this event and help bring the community together.
"One of the major ways that we are able to give more to our community is by playing an active role in raising awareness about water safety and safety living near dams. We encourage you to visit our website for tips on staying safe when visiting SunWater facilities," John said.
"We are looking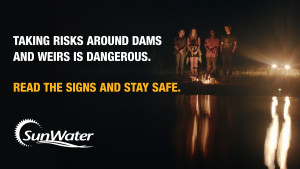 forward to the show and hope everyone can attend."