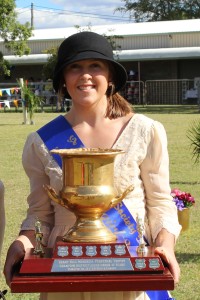 The South West subchamber regional finals are fast approaching, with the annual event to be held on 27 June in St George this year. Flying the flag for Taroom will be Natalya Schumacher as the Taroom Miss Showgirl, and Nell Blackley who will compete in the dark rich fruit cake competition.
Nell won the dark rich fruit cake section in 2014, which gave her the opportunity to compete in the Queensland state finals held at the Brisbane Exhibition. The Miss Showgirl and dark rich fruit cake competitions, alongside the Rural Ambassador and Young Farmers Challenge, are run by the Queensland Chamber of Agricultural Societies (QCAS) and all conclude with a state final at the Ekka. More information on the various competitions can be found at the QCAS website.
For those wishing to support the Taroom competitors by attending the regional finals in St George, please contact the Taroom Showgirl coordinator Christie McLennan at the Taroom Pharmacy.
Last but not least, the Taroom Show Society would like to wish Natayla and Nell the best of luck.