The Taroom Show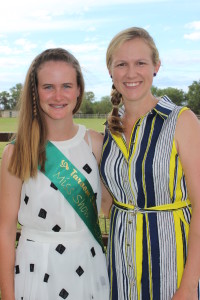 Society's annual Ladies Luncheon is one of the most popular events on the Taroom social calendar, and this year's event on April 16 did not disappoint.
A record number of tickets were sold within several days. Over 90 women attended the luncheon at the Taroom Showgrounds to witness the presentations of the Miss Showgirl competition, and it was Hayley Bennett who was announced as the 2016 Miss Taroom Showgirl.
The Miss Showgirl runner-up was Harmony Liddle, while Toni Lamb was sashed the Miss Taroom Show Princess which is a category for young ladies ages between 13 and 17 years.
Guest speakers for the day included the 2015 Queensland Country Life Miss Popular Showgirl Mkarla James, and inspiring author Jo Capp. Jo's book 'Four Hot Chip's details her son's battle with cancer and the flow on affects it had on her entire family.
While writing the book was therapeutic for Jo personally, she also sought to share her journey to help others face various challenges in their lives. It tied in nicely with the theme for the day, 'good for her, great for us'.
Miss Showgirl and Ladies Luncheon coordinator Christie McLennan said the theme for the luncheon was relevant because of what the show society is trying to achieve.
"We hope that our local ladies enjoy the luncheon each and every year, enter some pieces into the show and enjoy the show. All these things are great for individuals, but it has a twofold affect because it benefits the greater community at the same time," Mrs McLennan said.
"Happy and positive personal experiences lead to improved community participation, and it boosts self-esteem and confidence. It ensures community groups get the volunteers they need to continue, and in our specific case, the wider community gets to benefit from a bigger and better show."
* For more pictures, please visit the Taroom Show Facebook page.