The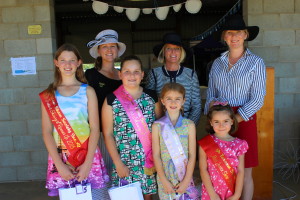 future of the Taroom Miss Showgirl competition looks bright, as over 15 girls lined up for the junior Showgirl competition at this year's show. Melissa Hopkins and Ayla McIntyre judged the two categories, being the Miss Junior Showgirl aged 8-12 years and the Miss Junior Princess aged under 8 years.
All the entrants spoke confidently into the microphone and answered several questions asked by Taroom Showgirl coordinator Christie McLennan.
Mrs McLennan said the junior showgirls are a wonderful example of how the younger generations are getting involved with their local show.
"All of the girls showed great confidence to speak on stage and represented themselves and their families well," Mrs McLennan said.
Winner of the Miss Junior Showgirl category was Monika Bruggemann, while Abbey Phipps was awarded runner-up. In the Miss Junior Princess section, Ava McNee and Eliza McNee were announced as the winner ad runner-up respectively.