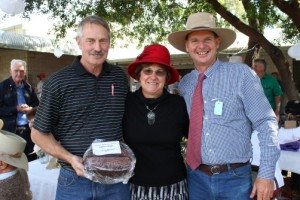 The 2014 men's chocolate cake class proved a huge hit for both competitors and spectators alike. The class attracted a record 17 entries, and rumour has it several men practised regularly in the lead up to the show.
Five of the chocolate cakes were auctioned off by Luke Hopkins, to raise $486 for the Taroom Cancer and Palliative Care Group.
We caught up with last year's first and second place getters, Harry Johnson from the Taroom Post Office and show vice president Don Lethbridge, to gain an insight into their cooking. The two are already flicking through their books to find their best scone recipe, which will be this year's class to contest.
Q. Favourite thing to cook? HJ: My favourite thing to cook is a good steak, medium rare on the barbie with caramelised onions and finished off with a little brown sugar and balsamic vinegar. DL: Bread- I find it a very versatile ingredient. It will go with anything from butter, to just about anything wholesome from a can!
Q. Best recipe you own? HJ: The best recipe I own is the chocolate cake. My style is throw all the ingredients in a bowl, measured exactly of course and beat the daylights out of them for five minutes. Cook in a medium oven until it's cooked- that's about the time it takes to drink two stubbies. How hard is that? DL: Now this is a beauty, loved by all ages. Nadine was sick in hospital and it was the first time I'd had to cook for Skye. I named it Dad's Famous Goulash! Basically its mashed potato with cheese melted in, and then canned tuna mixed through to add taste.
Q. Your secret ingredient for most recipes? HJ: Luck and fresh ingredients, electric beaters or maybe I should say just follow the instructions! DL: I'm a bit like Colonel Sanders, but for the show I'll give it up- butter, pepper and chili.
Q. Hand beaten or electric mixer? HJ: Definitely the electric beaters work for me. DL: I am most definitely a lazy traditionalist, electric for sure.
Q. Trick to perfect icing? HJ: Did you see Ben Adam's cake last year? Ask him. DL: Ask Ben Adams what he did with his icing last year and do the total opposite of that, you will be sure to be successful.
Q. How often you cook in a week? HJ: Very seldom. DL: 0.03846154 times a week. This equates to about twice a year which is equal to the amount of times I do the washing up, according to Nadine.